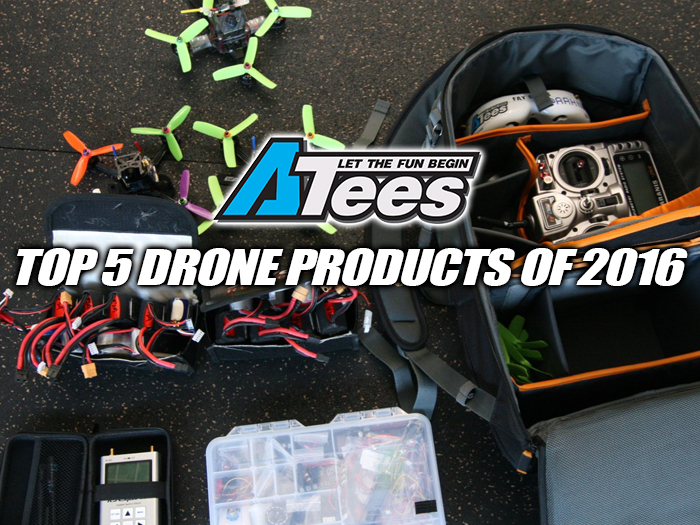 ATees Top 5 Drone Products Of 2016
2016 has been a roller coaster year for the drone racing industry to say the least. Here is our list of Top 5 Drone Products Of 2016.
If you're shopping for a multitude of holiday stocking stuffers, one-and-done gifts, or even gifts for your friends on a year-round surprises, present ideas, we got you covered. Here is a list of the ATees Top 5 Drone Products of 2016!


1. Fat Shark Dominator V3 FPV Goggles

Fatshark is one of the "Standard" equipment for FPV so our team were having a meeting, we're all hands down this is our number 1 choices

FOV (field of view): 30° diagonal
Comes with a number of accessories, including the necessary HDMI cables to connect to a HD Video Downlink and most importantly a black carrying case
Optional Diopter Lens Inserts: -2, -4, -6 dpt
Display: 800 x 480 WVGA LCD NTCS/PAL auto selecting Side/Side 3D HDMI Support 720p
Included 1800mAh battery


2. EMAX RS2205S KV2300 Racing Edition Multi-Rotor Motor


At first we were alittle unsure what to expect with this new upgrade motor. We hear alot of pros and con, so we were Optimistic. We were blow away but the Build Quality due
to the "Cool Series Motor Design" it provide alot of Tolerances.

Race Spec Performances with Good Cooling Design
Its Powerful, Hard to Break
Come with a lot of accessories
Very Efficent with a really affordable Price
Low CG, Light Weight Design


3. Mako 225 5 Inch Carbon Fiber Quadcopter With 3D Printed Pod


the Evil Genius Andy Shen Released the 3D Printed Pod Shendrones Quad which is the Best type of drone available on the market, Mako is a pure X quad with an aero canopy that
fully shielded all your Hardware and take a Good Beating in the worst Situation.

Aerodynamic Structure
Eye-Catching Appearance
Optional propeller guard to make it even more Durable
Outstanding 30, 40, 50, and 60 degrees of tilt for your FPV Camera
Fly well in strong winds

 
4. FX795T-2 5.8G Switchable 25mW/600mW 40CH Raceband AV Transmitter With Antenna


Lets be Honest here, We need light weight, alot of Channel and output power adjustable features. Well FX795T is the exact choices for you. The Best Packaging

Hard Case really Good Packageing
Micro sized, lightweight and durable
40 channels ,Cover A, B, E ,F bands and Race band
Output power 25mW to 600mW reversible
Built in mini microphone


5. Taranis X9D Plus - Mode 2 TX Only


Taranis is always been the Best remote for FPv pilot becuase It was created in collaboradion with RC hobbyists so in short: designed by actual
FPV pilots, with pilots' needs in mind.It runs OpenTX operating system that is 100% Open Source and constantly getting updated and better thanks
to great community around the world.
Great features
Affordable Prices
Store 60 models in the internal memory
Three-way Switches with Telemetry
Best FPV racing pilots like Charpu and Boris B. are using it as well
Are you doing your last minute Christmas shopping? Make your list, check it twice, and start swooping up these best drone products at ATees.com. Shipping with Fedex/DHL takes 2 days!