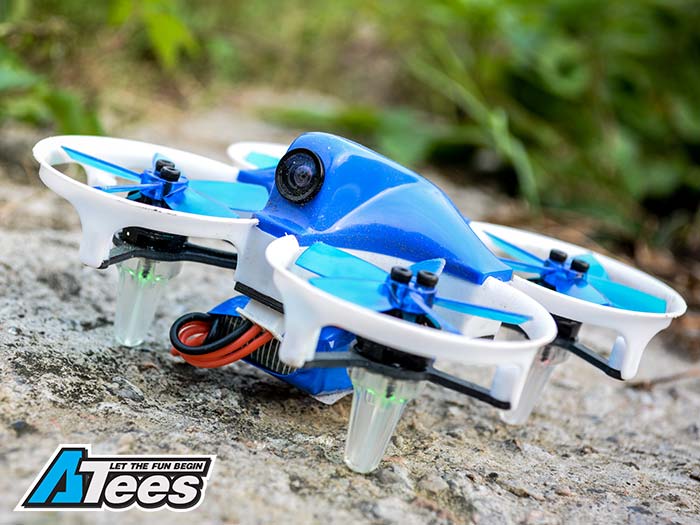 DYS ElF Drone
DYS had just released there first RTR 83mm tiny drone, and like most popular drone these days, its designed to be more user friendly. The Elf apparently has a FPV Camera on top that you can use for FPV, generally just plug into your Fatshark and you're good to go.
DYS is one of many companies that specialized in ESC and Motor. Yet this time they're releasing a New Tiny Drone (within 90mm) for both Indoor and Outdoor, Powered by Brushless Motor and 3 in 1 ESC with Dshot. Isn't this spec going a bit overboard the chart or what?

Features:
Could be the smallest racing quad ever using BE1102 KV10000 brushless motors.
Almost like a full-sized racing quad with F3 FC and 4 in 1 Esc squeezed into a 83mm tiny body with even ideal propeller protection.
You can fly it safely indoors or outdoors avoiding high spare part cost.
Use 1.7in 5 blade propeller which offers it great power.
The receiver is Frsky Type that is compatible with most FRSKY radio.
You can choose to use the radio coming with this quadcopter or use your own FRSKY radio like X9D or X12S.
Comes everything you need even including a 800tvl camera and a 25mw 40CH 5.8G VTX that's compatible with most video receivers or FPV goggles on the market.

Spec:
Frame Size: 83mm
Weight: 80g (battery included)

Receiver: Frsky Type D8
Brushless Motor: BE1102 10000KV
Brushless ESC: 4 in 1 Blheli_S Dshot F10A
Flight Control: F3
Camera: 800TVL HD (horizontal resolution), 1.8mm 170° (no microphone)
Video transmitter: 5.8G 40CH 25mW
VTX distance: 300M
Propeller: Micro 1.7 inch 5 blades prop
Battery: 600mAh 2S 7.4V LiPo
Flight Time: Around 6 minutes
Remote Control: 2.4GHz wireless radio control, DYS new remote
Remote Control Channel: 8 Channels
Remote Control distance: 300M


Stay tune for our latest update on this bad boy. Please also check out our video below.