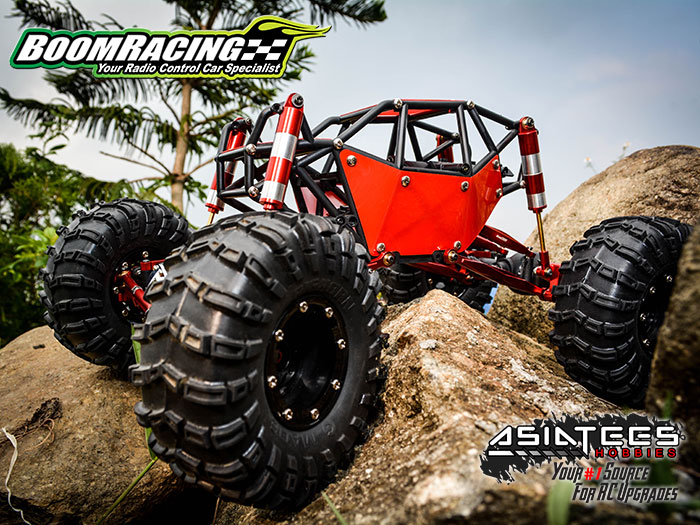 Boom Racing: 5 Upgrades To Take Your Gmade R1 To The Next Level
Featured with a lot of great designs, the Gmade R1 is probably the best rock buggy we've ever seen. It was built on a tube chassis which is very light and firm, giving it advantages of running on unpredictable rocky terrains. Boom Racing, after months of extensive testing, has unveiled the following 5 aluminum upgrades that will help it perform even better.
Taking the aluminum servo mount as an example, made of the CNC machined aircraft aluminum, the Boom Racing servo mount has exceptional quality and can be installed very easily. Machined from solid aluminum, the light weighted C-Hub can be used with the stock axles and bearings. Its one piece heavy duty design gives it extra durability facing various terrains. Like we've mentioned that R1 itself has many great designs. Portal axles simply mean the drive axles are above the center of the wheels. This gives the R1 greater ground clearance, beneath the axles, than other trucks using the same tires. Hence, the front skid plate seems not that important any more so Boom Racing brought us the center skid plate, which wraps under the car to help you run over the rocks better. Available in red, silver and gun metal colors, all the Boom Racing upgrades provided this time are direct replacements for worn or damaged stock parts.
Click
here
and find more parts for the Gmade R1.