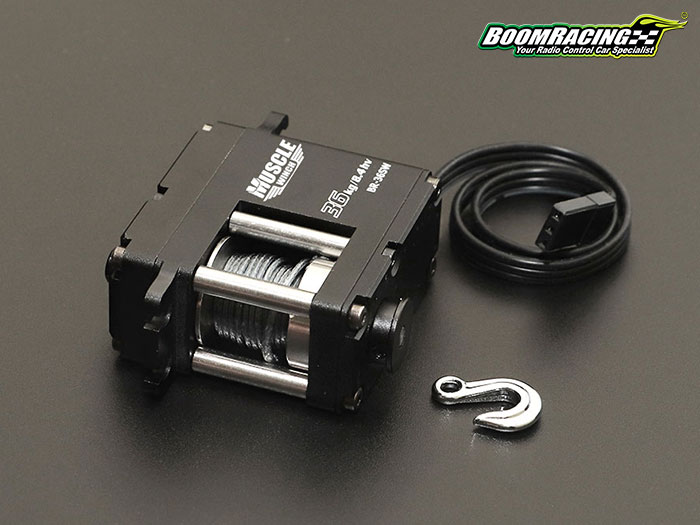 Boom Racing Muscle Winch With Free Spool Unit
Boom Racing is releasing a servo winch dubbed the Muscle Winch. It features an integrated Free Spool Unit, high voltage input at 8.4 volts, full metal construction and fully waterproofed.
From the factory:
Our Muscle Winch is a dedicated and fully waterproofed servo winch designed and engineered from the ground up, delivering strong pulling power and reliable performance for any R/C builds.
A free spool unit is integrated into the Muscle Winch™ for quick winch release. There are two ways to trigger the free spool mechanism; one by pressing the button on top of the servo winch, and the other by pulling the knob on the bottom. This dual trigger design makes the free spool unit accessible from both sides of the servo winch. This is a major advantage when designing the layout for your servo winch placement.
The Muscle Winch operates at 6V to 8.4V which produces up to 36KG of torque, and features a billet aluminum case and full metal gears for strength and durability.
Direct plug-and-play, plugs straight into your receiver. All you need is a spare channel with a three-position switch.
A metal scale winch hook is included for the icing on the cake!
Specification:
Operating Speed (6.0V): 72rpm
Operating Speed (8.4V): 95rpm
Torque (6.0V): 27kg/cm (375oz/in)
Torque (8.4V): 36kg/cm (500oz/in)
Dimensions: 54x46.5x20mm
Weight: 85g
Gear Set: Full Metal
Part Number: BR-36SW
Release Date: Coming Soon