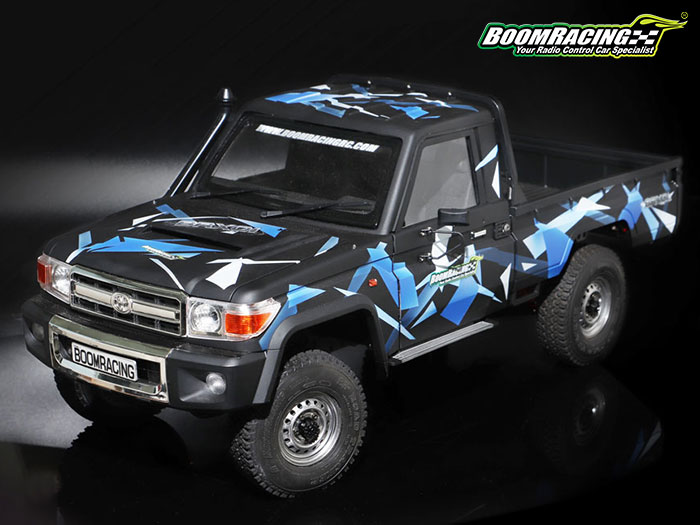 List Of Upgrade Parts For Boom Racing BRX01 With LC70 Body
Building the LC70 body is fun and exciting. With so many parts and accessories available, you can build the Boom Racing BRX01 the way you want and truly make it your own.
There are now lots of body accessories available for the Toyota LC70 hard body, available from Killerbody (the original body maker) and different aftermarket companies. Some of the most popular accessories include the Full Interior set, the Opening Door Kit, the Working Window Kit, and the Opening Hood Kit. Below you can find a full list of body accessories to build the truck.
Is this the right truck for me?
This truck is right for you if...
You're looking to build a very detailed scale R/C model truck. This is one of the most detailed truck on the market today.
You want a highly adjustable truck with no torque twist and over 45 degree turning radius, and a very efficient drivetrain with 2-speed.
You own a few R/C trucks and ready to add a special one to the fleet.
You're ready to take on a more challenging build.
You're looking to get into super scale R/C trucks.
You're willing and ready to try something new.
Obviously, there are other reasons why you could be interested to get the BRX01. If you do get one, or deciding on getting one, I encourage you to join the Official BRX01 Facebook Fan Group and ask any questions you have in mind and see what others are doing with it.
Is it difficult to build one?
The BRX01 chassis comes in a Bolt-On kit format. This means that the major components are pre-built at the factory and you will just need to "bolt-on" these parts onto the chassis. Most of the drivetrain components are factory pre-built; including the two-speed transmission, transfer case, front & rear axles. The shocks are factory pre-built but require oil (included) and your own set up depending on how many things are added onto the truck (weight).
For the LC70 hard body, if you've had experience with building static models, you can expect a fairly similar build experience with the body. You will get to work on hard plastic body parts and accessories which include painting, gluing and installing small parts, scale nuts and bolts.
How much time does it take to build one?
The BRX01 chassis takes approximately three to five hours for an experienced builder. Building the hard body takes some planning and prep time for paint scheme. The hard body takes a bit more time to finish than a lexan body simply because there are a lot more body components that are small and intricate to handle.
List of Optional Parts & Upgrades: BRX01 Chassis

Chassis
Body
Bumper
Suspension
Drivetrain
Boom Racing HD Overdrive Keyed Gear Set (27/8T) BR955029
Boom Racing HD Overdrive Keyed Gear Set (24/8T) BR955040
Boom Racing HD Underdrive Keyed Gear Set (33/8T) BR955042
Boom Racing BADASS HD Steel Center Drivelines
Boom Racing BRX90 Conversion Kit for BRX01 & BRX70 Axle BRLC7078
Boom Racing Full Ball Bearing Set BRX01BBZ
Boom Racing BRX01 Front Skid Plate for BRX70 & BRX90 PHAT Axle BRLC7086F
Boom Racing BRX01 Rear Skid Plate for BRX70 & BRX90 PHAT Axle BRLC7086R
Boom Racing XT Diff Cover for BRX70 & BRX90 Axle BRLC7088
Boom Racing Knuckle Arm Lever for BRX70 & BRX90 Axle BRLC7002ARM
Weights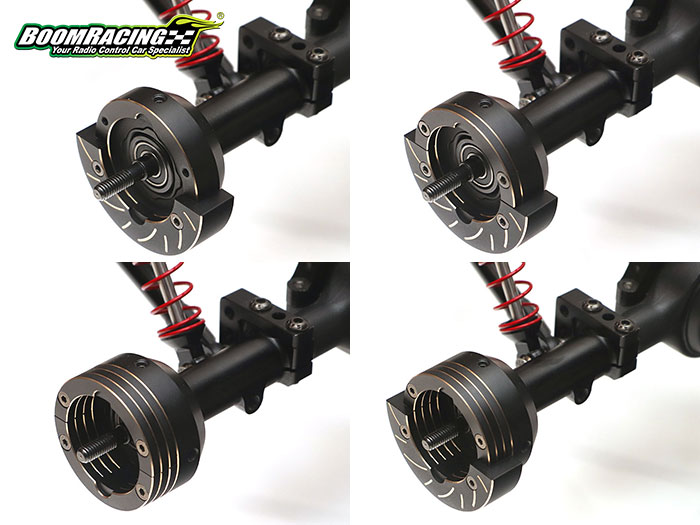 Wheels
Tires
Tire Inserts
Boom Racing Rock Monster Silicone Inserts for Baby Hustler 1.55" Crawler Tires BRRM15502
Electronics
JX Servo High Voltage Waterproof Core Metal Gear Mini Servo 4.5KG 0.08s @ 8.4V JX/PDI-HV1151MG
Power HD Waterproof Mini Servo Metal Gear 7.4V 2.6KG for TRX4 Crawlers Blue PH/TR-4
Boom Racing PYTHON™ BLACK BR-45WP HV Waterproof 45kg/0.11s @8.4v Axle Mounted Servo w/ Low Profile Horn BRT10043
List of Accessories: Toyota Land Cruiser 70 hard body

LED Light
Cab Accessories
Bed Accessories
Battery Relocation

If you run an interior, chances are you will be relocating the battery. Here are two solutions to relocate the battery.
Decals
Dually Setup
Boom Racing Dually Conversion Set BRLC7066
Boom Racing Adjustable Dually Adapter for 5-Lug Beadlock Wheel BRXT5DU
Last updated: 18 March 2021