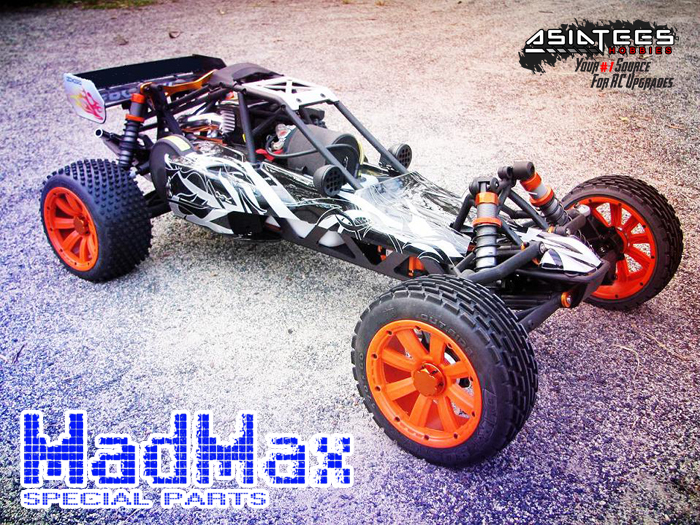 Madmax BeadLock Wheel/Tire Set For HPI Baja
These bead lock wheel and tire sets #YYB29-114 are produced by Madmax which is leading RC top quality parts manufacturer for Big Scale RC cars such as Losi 5ive, HPI Baja 5b, 5T Trucks etc.
These Madmax Wheel and tire sets have several different tire patterns and they are in really nice quality. The big digger is designed to clean out rocky roads and also gain good traction on sandy or even muddy lands, so they are the perfect set for cross road conditions. On the other hand, the arrow pattern allows the Baja to run smoothly on the flat roads, it can gain maximum forward power when running on straight roads. The mixed pattern is more versatile which performs well on both road conditions. It is the best choice for those who has limited budgets and do not want to spend too much money just on the wheels.

The wheel and beadlock material is made of very hard nylon which provides a lighter weight so the cars can run faster. The wheels are very strong; they can run on very hard ground and they never break. The bead locks can lock the tires firmly to the wheel so the tires are held in place in all sorts of tough racing conditions. The wheel width of the front and rear wheels are 60mm and 80mm, wheel diameter size 120mm, with metal reinforcements around the 120mm hex hubs for extra durability, this part can fit into the 5B RTR/5B SS/5T perfectly.

Upgrading all 4 wheels and tires for your Baja to Madmax could improve your Baja's performance drastically on different road conditions. There are many different types of tire patterns to choose from. Those tire sets looks awesome when you put them on your Baja's especially with the oranges color rims. Outrun your competitors with Madmax quality bead lock wheel and tires set.