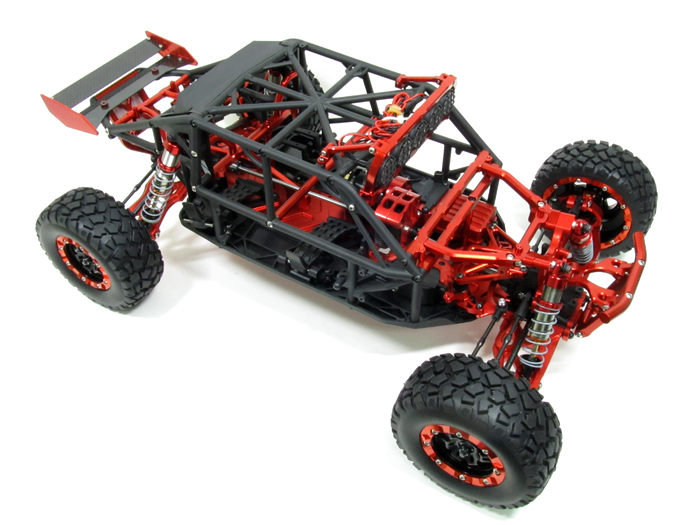 Top 7 Upgrade Parts for Axial EXO
The EXO Terra Buggy is an entry for Axial into the short course segment. In the midst of so many great short course trucks, how do you make your Axial EXO stands out from the bunch? There are 7 must-get upgrades that you should know if you are serious about increasing its overall performance.

1. Front Universal Joint / CVD Swing Shaft
Universal shafts or CVDs make a tremendous difference from standard gearbox joints and dogbones. They remove any play in the drivetrain and also increase power to the wheels under acceleration. They improve smoothness in the drivetrain for both racing and gripping. They are much smoother than stock dogbones, and can handle much bigger power with ease (from a powerful brushless motor).

2. Aluminum Motor Mount
The aluminum motor mount increases the stiffness of the chassis and motor stability, thus increasing overall performance during acceleration and high speed maneuvering.

3. Rear Universal Joint / CVD Swing Shaft
Just like the front universal joint, the rear universal joint / CVD swing shaft is equally important in removing play and increases power to the wheels during acceleration.

4. Graphite Front & Rear Bumper Skid Plates
The graphite front bumper skid plate increases stiffness to the chassis, both front and back. So when you crash into the wall or fall from a big jump, your EXO is protected!

5. Heavy Duty Center Driveline Dogbone
The heavy duty center driveline is a great upgrade to get to replace the original component. The heavy duty steel can withstand tremendous power in the drivetrain that can take the heaviest beating, and still give you the reliable performance you'd expect after long hours of run time.

6. Aluminum Front Shock Tower
The aluminum front shock tower will strengthen the front end of your EXO buggy and protects the entire chassis from potential wreckage. One of the weakest points of the EXO buggy is the plastic shock tower, and it will break sooner or later.

7. Aluminum 5 Bucket Light Bar
Just for the cool factor, we choose this item to be in one of the top upgrades you must get. Just take a look at the all aluminum light bucket. Need I say more?