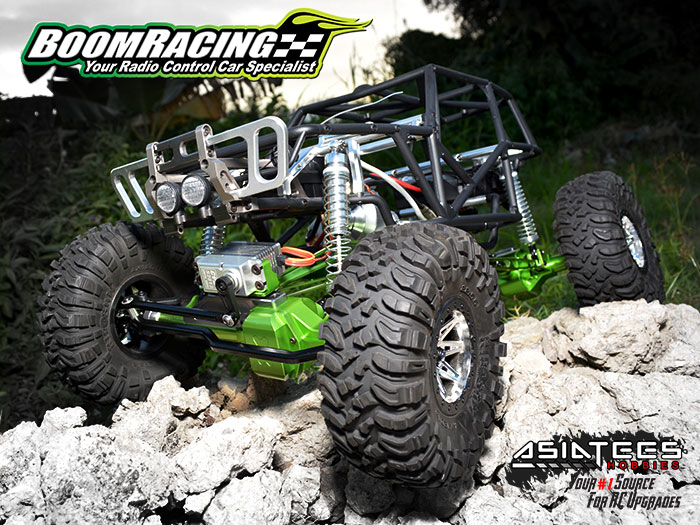 When The Axial Wraith Rock Racer Becomes One Badass Machine
If drift cars are all about speed and passion, then rock racers must be all about power and strength. Both GPM and TopCad have spent years on exploring the best upgrades that will improve crawlers' performance. They both have a great line of parts and upgrades for the Wraith; after we tried them one by one, here we give you a full list of upgrade parts that make your Wraith a bulletproof racer.

Parts like front/rear housing, steering knuckles and c-hubs are always on the top of the list for any rock racer is you want more angles and possibilities during running. By simply adding more angles, aluminum upgrades like c-hub will effectively improve the performance when it comes to a rocky terrain. Parts like skid plate, motor plate and shock mount will provide the car with more durability. A fully upgraded model means each part on this car is strong enough, especially ones that we always forget about; for example, servo mount and battery holder, who said they doesn't matter. Protecting your electronics is very important since they are the fundamental driving force of your model. With an "armed to teeth" car, rock quarry, winter day rocky terrains, professional trails…just names the places you wouldn't dare trying before; now it's the time to conquer them all!

Following is full list of the upgrades we used on the Wraith to make it our absolute one bad machine:

23028s Aluminum Rear Shock Mount
23029gu Aluminum Front Heavy Duty Bull Bar Set
23033s Aluminum Wind Frame Stiffner
23026s Aluminum Battery Case Holder
23027s Aluminum Front Shock Mount
23021g Aluminum Skid Plate
23034s Alloy Front Hood Holder
Wr014g Aluminum Rock Buggy Links Set
Wr012agm Front & Rear Gear Box Mount
WR012+WR019G Front/Rear Axle Housing & C-Hub 4 Pieces Set
Swr037bk Steel Main Shaft
WR038GCS Aluminum Transmission Spur Gear Case
Wr022g Aluminum Steering Rear Knuckles
Wr024g Aluminum Servo Mount
Wr049g Aluminum Lower Thread Rod 4 Pieces
Wr018 Aluminum Motor Plate

Besides the aluminum upgrades, electronics also play an important part in a car's final performance. For this fighter, we've upgraded it with a CYS full metal brushless servo, an EP battery and SkyRC Ares Pro motor & Toro TS120A ESC, providing your racer real power. The CYS full metal servos are designed with heat fins around the body of the servo, removing your worry for any possible damages from high temperature. EP batteries, made by Enrich Power, is also an outstanding battery brand that make products with "safety" and "durability" features. SkyRC, a brand that makes electronics for professional drivers, is proud to bring you motors and ESCs that featured with the top-notch techs, maximizing conductivity more effectively. All these three brands have wide ranges of products for us to choose from, you can easily get one that suits your model.

Owners of other Axial models, click here to check out all the upgrades for your models.