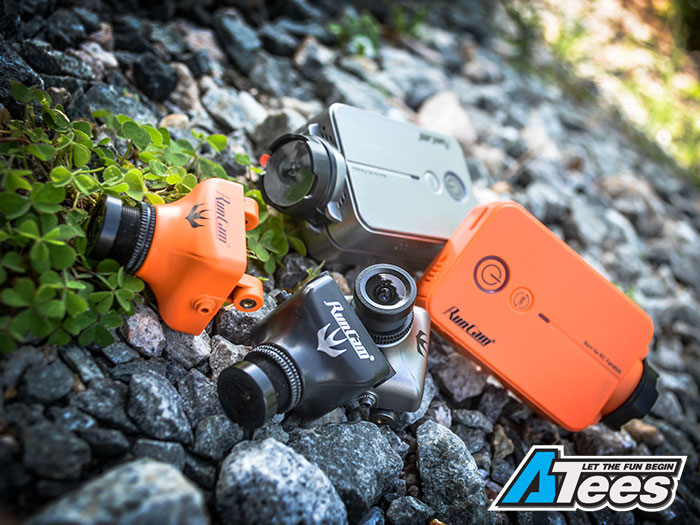 New Arrival: RunCam 2 & RunCam Swift FPV Cameras
RunCam is now available on ATees! Check out the RunCam 2 HD Action Camera, or the increasingly popular RunCam Swift FPV Cam!
RunCam is a very popular brand known for their FPV camera selection. Whether you're looking for an action camera to record everything you do or an FPV camera for your quadcopter, RunCam absolutely destroys the competition with their excellent product offerings.
One of their main products is the RunCam2, which is a high definition action camera that can shoot 1080P videos at 60FPS, or 720P videos at 120FPS. It has very low latencies, built-in WiFi for an iOS/Android App, a USB power port that can be powered from 5-17Vs or even 2-4S batteries, and a removable battery! The RunCam2 comes with a lens hood that protects the lens from stray light and glare. Made from a GE PC/ABS blended thermoplastic, the RunCam2 has a matted surface that was made with a wear-proof UV coating. The RunCam2 comes with the camera, a battery, a 1/4 Tripod Adapter, a mount, one USB cable, a servo to RCA adapter cable, TV-out and power cable, 2 velcros, one tether, and a manual. 
Another product that we've begun carrying is the RunCam Swift, an excellent 600TVL FPV camera that works off of 2S to 4S LiPos. The FPV camera is IR sensitive and comes with a 2.8mm lens. The camera can be easily mounted to any type of quadcopter. The package comes with the camera, a hanging bracket, a base bracket, FPV silicone wire, RCA video power cable, 5D-OSD menu cable, standard back cover (it's using a different one stock), and the manual. 
Click on the Shop Now button to purchase your very own RunCam products, here on ATees!